Japan courts Malawi for renewal of Mulanje rare-earth licence
By Chiku Jere
Japan has asked Malawi to renew an exclusive prospective licence for Springstone Limited, a joint venture between Japan, Oil, Gas and Metals National Corporation (JOGMEG) and Canada's Gold Canyon Resources, which is exploring for rare earth elements at Chambe Basin in Mulanje Mountain.
This is contained in a communique detailing engagements of Minister of Natural Resources, Energy and Mining, Aggrey Masi, in Cape Town, South Africa, where he led a Malawi delegation that attended the 2018 Investing in Africa Mining Indaba.
The Ministry says in the statement that Masi met a Japanese delegation led by Dr Masaki Oguchi, Parliamentary Vice Minister, Ministry of Economy, Trade and Industry of Japan on February 5, 2018, and the discussions, among other things, focused on renewal of exploration licence by Springstone Limited, which has JOGMEG as a major shareholder with 67% shares while the rest of the shareholding is in the hands of Gold Canyon.
The statement says Masi also discussed with the Japanese delegation about Japan's interest in minerals such as nickel, cobalt, graphite and lithium following the advent of electric vehicles and green energy.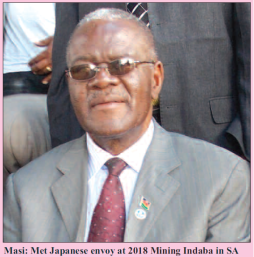 The discussion as well centred on Japenese assistance to Malawi on capacity building in the areas of geological information systems and remote sensing for Malawian Geoscientists.
Says the statement:
The two countries have an existing memorandum of understanding that binds Japan to assist Malawi in capacity building in the said areas and the discussion centred on the need to review the MOU.

The Hon. Minister expressed gratitude for the technical assistance it gets from the Japanese Government. He pledged government's support to exploration companies from Japan investing in Malawi.
In 2013, Spring Stone announced the completion of a field exploration programme at Chambe basin, which paved way for mineral resource calculation and an economic analysis of the project including an infrastructure survey.
The company also said it was conducting additional research and development work to seek the optimum rare earth element leeching process.
Spring Stone, which kick-started the exploration campaign in 2011, engaged Japan's Mitsui Mining Company as the contractor for exploratory drilling at the 400 km2 exclusive prospecting licence area.
Phase 1 drilling ran from September to October 2011 and involved the digging of 24 holes while Phase 2 drilling was conducted from May to November 2012, and involved the drilling of 176 holes.
The campaign discovered a superficial horizon of rare-earths-bearing kaolinite/halloysite clay ranging from 3 m to 26 m in thickness.
Independent analysis of core from these holes indicates that the clay contains comparable levels of total rare earths enrichment to its Chinese counterparts, as well as similar heavy rare earths enrichment.
Springstone says very low radio- activity is associated with the clays, which is potentially a positive metallurgical attribute.
In addition to drilling, the company undertook extensive baseline environmental work, including a study on how indigenous vegetation could be regenerated as part of future development of the site.
Seasoned geologist and former Principal Secretary for the Ministry of Mining, Leonard Kalindekafe, describes the Mulanje Mountain deposit as an important and interesting discovery for Malawi because few such rare- earth deposits (with an ion-adsorption clay type similar to China) have been found elsewhere.
It is interesting because this is a rare deposit and I find it an important discovery for Malawi. Such types of deposits are cost effective in terms of rare-earth element recovery,
says Kalindekafe.
In a report on rare earths occurrence in Malawi, Kalindekafe indicates that most of the country's rare-earth deposits are of the carbanatite type.
He reports that the country has great potential for the minerals, mostly found in the Chilwa alkaline area, in the southern region.
The report highlights the Kangankunde deposit in Balaka and the Songwe Hill deposit in Phalombe as some of the potential deposits in the area.
JOGMEC is a Japanese government organization established under administration of the Ministry of Economy, Trade and Industry, and is responsible for fostering international exploration and development of strategic minerals, amongst other mineral and petroleum related activities.
***
This piece was initially published in Malawi's Mining & Trade Review Issue Number 60 (April 2018).
The full edition is available for download here. This monthly publication is edited by Marcel Chimwala.